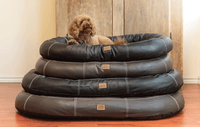 Welcome to Wouf Poof®!
Drawing on years of extensive expertise in the leather industry, we worked closely with our canine friends to develop a dog bed that intersects at the crossroad of comfort, style and a smaller environmental impact. Genuine leather is one of mother natures best gifts to all. 
Shop beds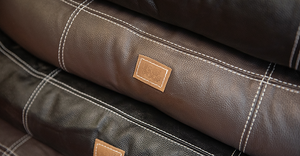 Design Conscious
The classic bolstered design will keep its shape and beauty for years to come, like your favourite leather jacket. It is perfect for dogs who like to sleep with their head on an armrest or pillow.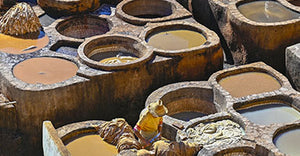 Environmentally Friendly
Leather is a by-product, unlike synthetic materials based on petroleum products. Through our Eco-Tanning process we provide a natural, breathable raw material that reacts in a positive way to your pet's body temperature. 
Low Maintenance
Your Wouf Poof® dog bed is easy to clean by simply using a damp cloth to wipe the surface. The leather surface will not attract dog hair or odour.
An increasing number of our clients are insisting on consideration for their pets when having an original interior design or a makeover planned. Leather is such a common furniture covering, and man's best friend seems to like it as much as their owners do. Considering its style, comfort, durability and hygiene, we find ourselves recommending it in a great many of our plans. We came across the Wouf Poof Collection earlier this year and my, what a novel yet practical accessory. My clients love it.

Anne Glionna - Interior Designer
They have finally created a dog bed that replaces the smelly, tattered, worn-out, eyesores that we have become accustomed to over the last 30 years. The luxurious, natural leather Wouf Poof® is a commitment to you and your dog for comfort, durability, design and hygiene. Recommended for SuperDogs including yours.

Herb Williams
I own three Airedale Terriers and have three Wouf Poof® dog beds. I purchased the first when one of my airedales was sick (May 2014) and all he wanted to do was lay on OUR leather couch. I ordered him his own leather bed. Quickly, the Wouf Poof® bed became the one they all wanted. In May 2015 I purchased two more and  THEY LOVE THEM!!!!! And I do too. They stay so much cleaner, and all considered they are holding up very well.

Sally Leach, Quincy, Tyndall & Jax